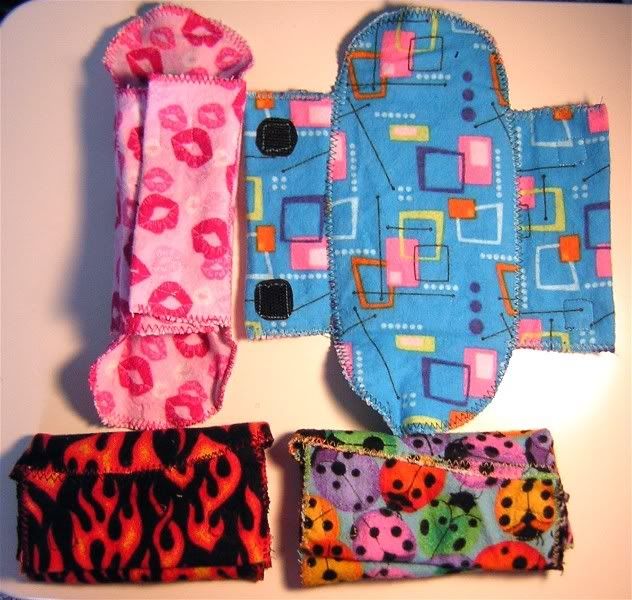 So, there's a thread over on PR on the Miscellaneous board right now about "alternative, reusable menstrual products." This is a topic near and dear to my heart, so I'm going to go ahead and get all TMI on your ass.
I <3 cloth pads. That's right, I said it. I am not a hippie dippie (well, i am a vegetarian who uses cloth pads) armpit-non-shaving pagan moon goddess. I'm a bougie yuppie (except for the vegetarianism, cloth pads, walking everywhere, etc. etc.) with a cute wardrobe and conventional grooming habits. What I'm saying is, there's room for cloth pads in every woman's life. It doesn't have to be a political or a feminist statement (though for me it is both), it can just be because they are so much freaking more comfortable than plastic disposable pads. They are more absorbent, too, believe it or not. Three layers of cotton flannel lasts three times as long as a disposable pad before it needs to be changed. And, hello! So much cuter! Check out the adorable ones above, made for a friend who is curious to try them.
I didn't start using them until I had a washer/dryer in my own home. I will exempt anyone who doesn't have that luxury from my request that you just consider it for even a split second. I will also exempt you if you have a really heavy flow; mine is light enough that I don't have to change during the workday so I don't have to carry a used pad around with me. Everyone else: just think about it.
I rinse them out and let them dry after use, and then wash them whenever I'm doing laundry. They don't smell bad or do anything scary while they're waiting for the wash.
They're really easy to make and so much more comfortable than disposables. No chafing! No inadvertent bikini wax when the adhesive catches you! No crackly embarrassing sound when you walk! No landfill-filling! (Ok, that last reason is kind of hippie dippie, but that's ok by me.)
If your first reaction is: Ick, I get that. When pads are being demonstrated on television they use blue liquid because OMG MY PERIOD IS SO GROSS!!!!!!! I WANT TO DIEEEEE!!!!!! But try to have a second reaction. Why is your menstrual blood soooooo disgusting that it has to be mummified and hidden at the bottom of the trash can and thrown to the unspeakable depths of the landfill? Do you take that much care with the tissue you use to sop up the blood when you stick yourself with a pin when sewing? Probably not. Blood is blood. Menstruation is normal, not shameful or embarrassing or gross or a terrible, horrible thing that happens to you every month (easy for me to say, I don't get cramps when I'm on the pill--if you get cramps I'll give you the terrible horrible bit).
To make, just trace around your favorite brand of pads, cut out three layers of flannel, make wings, zigzag, flip over and zigzag from the other side, add velcro, and voila!
In wearing and making them for a couple of years I have learned that (1) the wings need to be long compared to the length of the pad to keep them from riding to the back of your underwear when you walk, and they need to fasten at the front and the back of the wing, not just in the middle. Someone on PR suggested using corduroy for the bottom layer to stick them more in place, and for people with a heavier flow you can use PUL for the bottom layer. (2) When fastened, the wings need to be slightly narrower than the pad to keep it from crumpling up inside your underwear. (3) You can use velcro if you round the edges of it and overlap the two velcro pieces *exactly* when you put it on.